Rocco's Homepage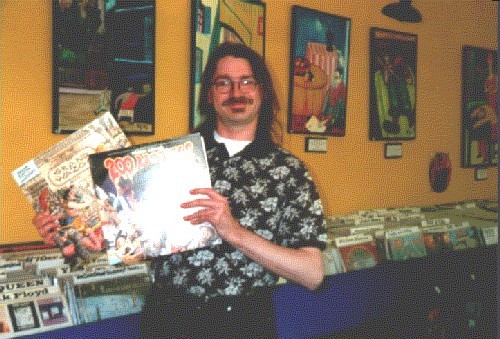 Hi, everybody!
Since it seems that the whole world is connected to the Internet now, and nearly every jerk is building up his own private homepage, I thought I put myself in the same line and start to make a fool out of myself, too. This page is still under construction, and I'm not a great HTML-programmer, so please forgive the cheesy look. I'm trying to concentrate on the essentials.
A few words about my person
I'm a male person of about 36 years old, with a body height of 1,82 meters (what's that in feet? 5,97 feet?), and my shoe size is 44 (9 1/2). I studied electrical engineering and am working as an engineer on automotive electronics, mainly for BMW. Still working on the convertible electronics, but at the moment I have to wait until my colleagues finished their studies on the new microcontroller and were able to present me a control unit with proper program for my first tests. In the meantime time to rework old stuff I made six or seven years ago (Yawn! - Some things never die...). I'm located here in the mid-western part of Germany in a mid-sized town of about 350.000 citizens. My hobbies are music, collecting records, and paying the bills of the repairings of my two cars. --- Enough of redundant blah-blah now. Let's go to the more relevant part of this page, since you might have the following question in mind: "What's this page all about?!"
So what's this page all about?...
...you might ask. Good question! I tried to figure out what could be interesting enough to build a homepage, which has to be connected to my hobbies. Since there are many pages about cars around, and even more about music and their artists, the finding of a special topic was not easy. But I found some underrepresented themes, connected to the collecting of records and CD's. At the moment I am concentrating myself on the following three themes (leaving out the "binary stuff" for newsgroups - see description below...):
"What?! Compilation albums? --- How boring....." <Buuzzzz> Wrong, my friend! We all know there are tons of them in the marketplace, and many of them are completely useless, but some of them contain superb material not available on regular albums of the artist of your choice. Others were nicely compiled and a pleasure to listen to. And some are now collector's items, not available anymore, and therefore hard to find these days. The albums included here do not all match these creterions, I simply put together all comps I got my hands on. But I'm thinking of including some kind of rating system and writing short comments to each album. Right now, in the state of putting the pages together, I reduced myself to only including a picture and the tracklist, so the pages look somewhat "naked" at the moment... And still will be, because I got the important duty to manage the alt.fan.frank-zappa singles FAQ:
Ok, now I think everyone whose hobby is collecting records has a favourite artist of his choice. In my case: Frank Zappa. I always liked his music, though I had some minor problems in the beginning, when I just discovered him. But very soon I became somewhat "addicted" to his music, if ya know what I mean. I'm a regular of said newsgroup since 1997, and due to the fact that the former maintainer of the singles FAQ wanted to get rid of it, to concentrate more on his main topic of his part of the groups FAQ, I took the opportunity and grabbed it. - That, and the fact I got some disc space for free from my ISP, makes it at least possible to take care for it.
Now --- many of you fans out there interested in rock music from the sixties, seventies, and eighties do know Ian Dury. He had some hit singles way back then, and I can assume here that at least you know "Hit me with your rhythm stick", no? There are quite some pages devoted to him, many of them carry more or less complete lists of his output, but haven't you noticed that no one has a gallery of his album "Do It Yourself", which came out in 48 different variations in cover art? Nearly all do mention the existance, but no one shows. So here it is: My desperate attempt to show them in a gallery!
This is not really a page, it's something created for the newsgroups I'm sometimes writing in. Just loose binaries like pictures, without much comments, and sometimes on-topic to some discussions I may can contribute with visual material. NOTE: This is NOT intended to be an informative page within this homepage, only digital dust!
---
[e-mail] Created: 17.09.2000 Last update: 25.07.2001
---
The big note: Like most of you I, too, have a regular life and have to go to work each day, so do not expect updates on a daily basis, nor a prompt reply to e-mails. Just give me a little bit of time. And then there's always the question of violation of copyrights. If you think that my pages contain material which I'm not allowed to include because of its protected status, please drop me an e-mail, and I will remove the doubtful parts. On the other hand I regard all material within my pages as protected by copyright laws, too, so please ask before you steal. I'm sure we can work something out.
Second note: Due to additions to current laws I'll have to add the following: I'm not responsible for any contents of external links. All external links provided here are intended to be of informative additions to the topics discussed on this here pages. I'm not connected to any of those links in any way, nor do I feel responsible. Please also read this
!