All Good Clean Fun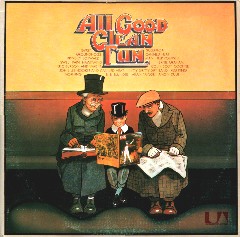 Title: All Good Clean Fun
Format: 2LP
Company: United Artists Records
Ordering Number: UDX 201/2
Matrix Numbers: UDX 201 A-10 / B-10 / UDX 202 A-20 / B-10
Country: England
Year: 19??

Side 1:

Eric Burdon & War Spill the wine 4:53
Help Yourself Street songs 5:35
Nitty Gritty Dirt Band Chicken reel 0:59
Colin Scot Take me away 3:15
If Here comes Mr. Time 4:47
Man Daughter of the fireplace 5:11
Side 2:

Cochise Home again 3:41
Morning Dirt roads 1:30
Gypsy Let me take you home 4:10
Allan Taylor Song for Kathy 3:32
Ernie Graham Don't want me round you 4:30
Canned Heat & John Lee Hooker Boogie Chillen No.2 - An excerpt 6:10
Side 3:

Groundhogs Cherry red 5:40
Sugarloaf Hot water 4:10
Hawkwind Be yourself - An excerpt 5:45
Amon Düül II Race from here to your ears 5:18
Morning Roll 'em down 3:05
Side 4:

Canned Heat That´s all right mama 4:18
Brinsley Schwarz Funk angel 4:16
Reg King Gone away 2:35
Nitty Gritty Dirt Band Yukon railroad 2:20
Sweet Pain Joy - Excerpt 4:25
B. B. Blunder Seed 5:35
Notes and comments:
The album has a nice sleeve, it's not a gatefold, there's a flap on the back side you have to open. Also included: a little booklet with remarks about the Bands included on this album.
---
[home] [index samplers] [index artists] [e-mail] Created: 14.11.2000 Last update: 14.11.2000
---
The big note: Like most of you I, too, have a regular life and have to go to work each day, so do not expect updates on a daily basis, nor a prompt reply to e-mails. Just give me a little bit of time. And then there's always the question of violation of copyrights. If you think that my pages contain material which I'm not allowed to include because of its protected status, please drop me an e-mail, and I will remove the doubtful parts. On the other hand I regard all material within my pages as protected by copyright laws, too, so please ask before you steal. I'm sure we can work something out.