Anos 60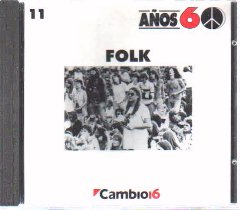 Title: Anos 60 (11 - Folk)
Format: 1CD
Company: Cambio 16
Ordering Number: none
Matrix Number: VOL 11 M 5941 MPO 03 @@ 9
Country: Spain (?)
Year: 1993 (?)

Tracklist:
Pete Seeger The land lady
Bob Dylan Please don't go
Kingston Trio Tom Dooley
Joan Baez Lowlands
Big Bill Broonzy John Henry
The Folk Hunters Si yo tuivera un Martillo
Woody Guthrie The house of the rising sun
Joan Baez / Bill Wood So soon in the morning
Pete Seeger Midnight special
Woody Guthrie Poor boy
Cisco Houstone and Woody Guthrie The golden vanity
Sereamin Jam Hawkins You are all of my life to me
Notes and comments:
The other volumes in this series are:
Vol.1: Nace el Rock
Vol.2: Rock Espanol
Vol.3: Rock Total
Vol.4: Pop
Vol.5: A Bailar
Vol.6: Italia Romantica
Vol.7: Instrumentales
Vol.8: Beat
Vol.9: Soul
Vol.10: Francia, Mon Amour
Vol.12: La Protesta
Vol.13: Latino
Vol.14: De Cine
Vol.15: El Verano
Vol.16: Baladas
This series could be produced for a magazine.
---
[home] [index samplers] [index artists] [e-mail] Created: 17.09.2000 Last update: 17.09.2000
---
The big note: Like most of you I, too, have a regular life and have to go to work each day, so do not expect updates on a daily basis, nor a prompt reply to e-mails. Just give me a little bit of time. And then there's always the question of violation of copyrights. If you think that my pages contain material which I'm not allowed to include because of its protected status, please drop me an e-mail, and I will remove the doubtful parts. On the other hand I regard all material within my pages as protected by copyright laws, too, so please ask before you steal. I'm sure we can work something out.