Chrysalis 25 - Edited Highlights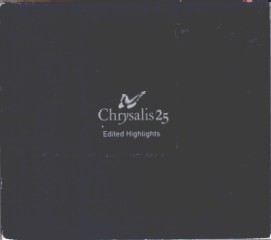 Title: Chrysalis 25 - Edited highlights
Format: 1CD
Company: Chrysalis Records Ltd.
Ordering Number: 7243 8 28820 2 2
Matrix Number: 828820 2 . 1 EMI SWINDON
Country: England
Year: 1994

Tracklist:

Arrested Development People Everyday (Metamorphosis Radio Edit)
Pat Benatar Love Is A Battlefield
Blondie Heart Of Glass
Carter USM The Only Living Boy In New Cross
Go West We Close Our Eyes
Billy Idol White Wedding
Jethro Tull Living In The Past
Kingmaker Ten Years Asleep
Huey Lewis & The News Power Of Love
Shara Nelson Down That Road
Sinnead O'Connor Nothing Compares To You
The Proclaimers Letter From America
Spandau Ballet True
The Specials Ghost Town
Ten Years After Love Like A Man
Kenny Thomas Thinking About Your Love
Ultravox Vienna
The Waterboys The Whole Of The Moon
World Party Is It Like Today?
Notes & Comments:
This one was released by Chrysalis Records due to their 25th anniversary in 1994. It was released the same time they put out all those special packages of some of their catalogue, like:
UFO - Strangers In The Night
Steeleye Span - All Around My Head
Pat Benatar - Wide Awake In Dreamland
Blondie - Parallel Lines
Generation X - Generation X
Go West - Go West
Billy Idol - Rebel Yell
Jethro Tull - Aqualung
Huey Lewis & The News - Sports
Frankie Miller - High Life
Sinead O'Connor - I Do Not Want What I Have Not Got
The Proclaimers - Sunshine On Leith
Runrig - The Cutter And The Clan
Leo Sayer - Endless Flight
Spandau Ballet - True
The Specials - The Specials
Ten Years After - Sssh
Kenny Thomas - Voices
Robin Trower - Bridge Of Sighs
Ultravox - Vienna
The Waterboys - This Is The Sea
World Party - Goodbye Jumbo
Arrested Development - 3 Years, 5 Months And 2 Days In The Life Of
Ian Hunter - You're Never Alone With A Shizophrenic
Carter USM - 1992 The Love Album
Those titles were released in special packages, as boxes, with the CD tray being of blue plastic, with a small sticker on the front with a picture of the cover. Included are the original booklets within the discs, along with an additional booklet about Chrysalis' history.
---
[home] [index samplers] [index artists] [e-mail] Created: 23.06.2001 Last update: 23.06.2001
---
The big note: Like most of you I, too, have a regular life and have to go to work each day, so do not expect updates on a daily basis, nor a prompt reply to e-mails. Just give me a little bit of time. And then there's always the question of violation of copyrights. If you think that my pages contain material which I'm not allowed to include because of its protected status, please drop me an e-mail, and I will remove the doubtful parts. On the other hand I regard all material within my pages as protected by copyright laws, too, so please ask before you steal. I'm sure we can work something out.