Danke '80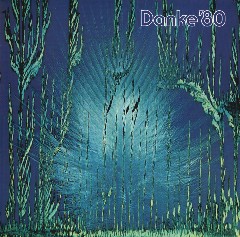 Title: Danke '80
Format: 1LP
Company: CBS Records
Ordering Number: CBS 1980
Matrix Numbers: ST DANKE 1980-A / B
Country: Germany
Year: 1980

Side 1:

Goombay Dance Band Sun of Jamaica
Costa Cordalis Pan
Paola Cinema
Peter Orloff Ich muß heim
Ingrid Peters Weißt du wo du hingehst
Bernhard Brink Fieber
Ricky King Moonshot
Lake Celebrate
Spliff Sweet as radio
Nina Hagen African Reggae
Side 2:

Olivia Newton-John Xanadu
Garland Jeffreys Matador
Johnny Logan What´s another year
Michael Jackson Rock with you
Electric Light Orchestra Confusion
Styx Boat on the river
KC and the Sunshine Band Please don't go
Frank Zappa Bobby Brown
Mike Batt Lady of the dawn
Barbara Dickinson January February
Notes and comments:
This is one example from the german "Danke" ("Thank you") series, released by CBS Records as a give away to people anf friends somehow connected to the record company. This series was to my knowledge not available in stores. It says "Limited and numbered special edition for our friends". My copy number is 2232. I think this series was produced from the mid seventies on since now, just that recent releases of the nineties are now CD's. I haven't seen any albums from this millenium, though.

Side one includes only german artists and bands, with the exception of the last three tracks all "Schlager" music. Spliff is the old Nina Hagen Band (after Nina left the band to make recordings in the USA) with an additional american singer (only for the album "Spliff Radio Show", from which this song here derived from).
Side two consists of international artists from the label. Did someone at CBS notice the lyrics to Zappa's Bobby Brown at that time? - I wonder wonder... 8-)
---
[home] [index samplers] [index artists] [e-mail] Created: 14.11.2000 Last update: 13.06.2001
---
The big note: Like most of you I, too, have a regular life and have to go to work each day, so do not expect updates on a daily basis, nor a prompt reply to e-mails. Just give me a little bit of time. And then there's always the question of violation of copyrights. If you think that my pages contain material which I'm not allowed to include because of its protected status, please drop me an e-mail, and I will remove the doubtful parts. On the other hand I regard all material within my pages as protected by copyright laws, too, so please ask before you steal. I'm sure we can work something out.