Fillmore: The Last Days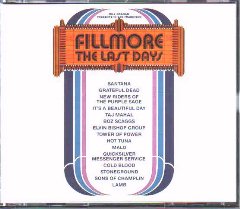 Title: Fillmore: The Last Days
Format: 2CD
Company: Epic / Legacy
Ordering Number: Z2K 31390
Matrix Numbers: DIDP-074092 1 / DIDP-074093 1
Country: USA
Year: 1988?

CD1:

John Walker Hello 2:12
Lamb Hello friends 3:16
Elvin Bishop Group So fine 3:58
Elvin Bishop Group Party till the cows come home 3:07
Malo Pana 8:01
The Sons Of Champlin Poppa can play 4:57
It's A Beautiful Day White bird 9:02
Quicksilver Messenger Service Fresh air 4:44
Quicksilver Messenger Service Mojo 4:56
Bill Graham Introduction 0:59
Tower Of Power Back on the streets again 6:33
Boz Scaggs Baby's callin' me home 8:54
Cold Blood I just want to make love to you 6:18
Stoneground Passion flower 3:53
New Riders Of The Purple Sage Henry 4:06
CD2:

Grateful Dead Casey Jones 5:58
Greatful Dead Johnny B. Goode 3:57
Bill Graham Introduction 0:51
Hot Tuna Keep your lamps trimmed and burnin' 7:42
Santana Incident at Neshabur 5:37
Santana In a silent way 7:50
Taj Mahal - Elvin Bishop - Boz Scaggs & Friends Jam Session: We gonna Rock 6:45
Taj Mahal - Elvin Bishop - Boz Scaggs & Friends Jam Session: Long and tall 12:24
Final Night Jam Session - Bill Graham Goodbye Greensleeves 3:32
Words with Bill Graham 16:59
---
[home] [index samplers] [index artists] [e-mail] Created: 17.09.2000 Last update: 17.09.2000
---
The big note: Like most of you I, too, have a regular life and have to go to work each day, so do not expect updates on a daily basis, nor a prompt reply to e-mails. Just give me a little bit of time. And then there's always the question of violation of copyrights. If you think that my pages contain material which I'm not allowed to include because of its protected status, please drop me an e-mail, and I will remove the doubtful parts. On the other hand I regard all material within my pages as protected by copyright laws, too, so please ask before you steal. I'm sure we can work something out.