Fingerprints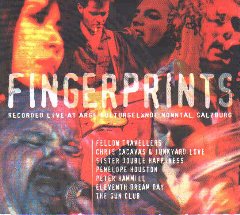 Title: Fingerprints
Format: 1CD
Company: ARGE Kulturgelände Nonntal
Ordering Number: CD 140363
Matrix Number: CD140363 11
Country: Austria
Year: 1993

Tracklist:

Fellow Travellers A few good times 5:30 (March 30th, 1993)
Fellow Travellers Train of tears 3:42 (March 30th, 1993)
Chris Cacavas & Junkyard Love Like a cigarette 4:16 (April 27th, 1993)
Sister Double Happiness Red temple prayer (Two headed dog) 5:35 (September 16th, 1993)
Sister Double Happiness Bobby Shannon 3:09 (September 16th, 1993)
Sister Double Happiness Exposed to you 5:06 (September 16th, 1993)
Penelope Houston Maybe Love 3:34 (October 29th, 1993)
Penelope Houston Father's day 4:08 (October 29th, 1993)
Peter Hamill I will find you 6:09 (April 24th,1993)
Peter Hamill Like a shot, the entertainer 5:24 (April 24th, 1993)
Eleventh Dream Day Honeyslide 7:34 (June 28th, 1993)
Eleventh Dream Day I got a thing, you got a thing, everybody's got a thing 3:59 (June 28th, 1993)
The Gun Club Little wing 4:25 (May 25th, 1993)
The Gun Club Yellow eyes 10:52 (May 25th, 1993)
Recorded live at ARGE Kulturgelände Nonntal, Salzburg
Notes & Comments:
There are three releases altogether, each one limited to 3000 units only, by request of the artists and record companies. According to their homepage all three items are still available.
---
[home] [index samplers] [index artists] [e-mail] Created: 17.09.2000 Last update: 07.12.2000
---
The big note: Like most of you I, too, have a regular life and have to go to work each day, so do not expect updates on a daily basis, nor a prompt reply to e-mails. Just give me a little bit of time. And then there's always the question of violation of copyrights. If you think that my pages contain material which I'm not allowed to include because of its protected status, please drop me an e-mail, and I will remove the doubtful parts. On the other hand I regard all material within my pages as protected by copyright laws, too, so please ask before you steal. I'm sure we can work something out.