Flashback Worldproductions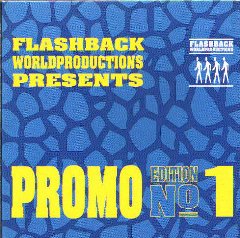 Title: Flashback Worldproduction presents Promo Edition No.1
Format: 1CD
Company: Flashback Worldproductions
Ordering Number: FB Promo 1
Matrix Number: WIZARD A 4236
Country: Luxembourg (but more probably Germany)
Year: unknown (around 1990 maybe)

Tracklist:

Billy Idol Do not stand in the shadow (from "Rebell Yell")
Nirvana Breed (from "Smells like Nirvana")
Queen Another one bites the dust (from "Rock in Japan")
Guns & Roses It's so easy (from "Silent Shots")
R.E.M. Stand (from "Songs for a green world")
Sting Mad about you (from "Happy birthday Sting")
Simply Red The red box (from "The colour red")
Stray Cats Sexy and 17 (from "Rumble in town")
Metallica Four horsemen (from "Metal masters")
Stevie Ray Vaughan Love struck baby (from "Looking at you")
Megadeath Liar (from "Set the world on fire")
The Police Truth hits everybody (from "Message from New York")
Judas Priest The metal gods (from "Metal gods")
AC/DC Shot down in flames (from "Living in the hell")
Black Crowes Twice as hard (from "Croacking crows")
Chris Rea Dancing shoes (from "Dancing shoes")
Jeff Healey Little girl (from "Live at the Electric Ladyland")
Stray Cats Rumble in Brighton (from "Runaway boys")
Live recordings from different sources and dates.
Notes and comments:
The Promo compilation was released in a gatefold cardboard sleeve, with the tracklist inside and an excerpt of their catalogue on the back, from catalogue number 0134 to 0174.
---
[home] [index samplers] [index artists] [e-mail] Created: 17.09.2000 Last update: 17.09.2000
---
The big note: Like most of you I, too, have a regular life and have to go to work each day, so do not expect updates on a daily basis, nor a prompt reply to e-mails. Just give me a little bit of time. And then there's always the question of violation of copyrights. If you think that my pages contain material which I'm not allowed to include because of its protected status, please drop me an e-mail, and I will remove the doubtful parts. On the other hand I regard all material within my pages as protected by copyright laws, too, so please ask before you steal. I'm sure we can work something out.