Greasy Truckers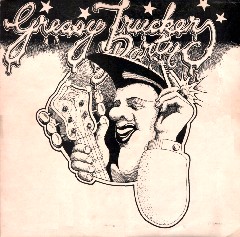 Title: Greasy Truckers Party
Format: 2LP
Company: unknown
Ordering Number: UDX 203/4
Matrix Number: UDX 203 A-2U / UDX 203 B (204 A) -2U / UDX 204B -2U / UDX 204 (203) B-2U
Country: England
Year: 1972

Side 1 (22 min):

Man Spunk Rock
Side 2 (22 min):

Man Angel Easy
Man Andy Dunkley (Speech only)
Man Power Cut
Brinsley Schwarz Wonder Woman
Brinsley Schwarz It's just my way of saying Thank You
Brinsley Schwarz I'm ahead if I can quit while I'm behind
Side 3 (22 min):

Brinsley Schwarz Midnight Train
Brinsley Schwarz Surrender to the Rhythm
Magic Michael Music belongs to the people
Side 4 (21:30 min):

Hawkwind Master of the Universe
Hawkwind Born to go
Recorded at the Roundhouse, 13th of February 1972

---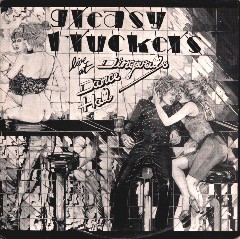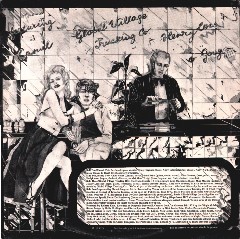 Title:Greasy Truckers live at Dingwall's Dance Hall
Format: 2LP
Company: unknown
Ordering Number: GT 4997
Matrix Number: GT 4997 1 A-1U / GT 4997 1B-1U /
GT 4997 2 A-1U / GT 4997-2-B-1U
Country: England
Year: 1973

Side 1 (19:10 min):

Camel God of Light Revisited (Parts one, two & three)
Side 2 (21:30 min):

Henry Cow Off the map
Henry Cow Cafe Royal
Henry Cow Keeping warm in winter
Henry Cow Sweet heart of mine
Side 3 (23:05 min):

Global Village Trucking Co. Look into me
Global Village Trucking Co. Earl Stonham (The Gunslinger)
Global Village Trucking Co. You're a floozy madame Karma (but I love your lowdown ways)
Global Village Trucking Co. Everybody needs a good friend
Side 4 (20:15 min):

Gong General flash of the United Hallucinations
Gong Part 32 Floating Anarchy
Recorded at Dingwalls Dance Hall, Camden Lock, on October 8th 1973, except Gong: Track one recorded at Festival of Tabarka, Tunisia, June 1973 (Full moon). Track two recorded at Sheffield City Hall, October 1973 (Full moon)

The night I was loathsome!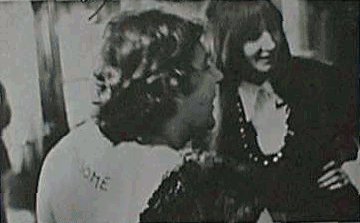 Come 8pm, October the 8th, '73, Dingwall's Dance Hall doors were opened to the unsuspecting patrons invited to attend this, the live recording of Pete and Lou's Greasy Truckers' second album, the first being the now unforgettable, ridiculous Man, Brinsley Schwartz, Magic Michael, Hawkwind set, UDX 203/4. (Silver Machine having been taken from that actual Roundhouse recording).
But, the show had been happening all day. Busy roadies carting armfuls of trunks, Wheeled the ton or so of equipment on stage, sound checks resounded round the club "One, two, --- hup, one, two," you know how it goes. In actual fact, all that wonderful electrical stuff spilled out over the floor, and indeed there was, parked, gleaming white, in theh courtyard, the wondrous Manor Mobile recording module, whose cables weaved their path into the building, where microphones had been precariously balanced for a drum sound, etc, and of course plenty of roaches had been stamped into the ground by heavily leathered cowboy boot heels.
The first sight to behold the thirsty patrons was unfortunate. An obesed character clad in a furskin leotard, eyeing the women and downing plenty of Jack Daniels, was hustling like a good'un for everyone to buy a raffle ticket for 25p, one could win an all expenses paid night out on the town with luscious Hungarian half-breed Karloo (that was for the gents), and for the lucky ladies, a night with the aforementioned fat boy! For those who were confused there were a pair of kindly donated albums.
About 300 humans had been invited that night, but add another 150 or so who had "jibbed in" and you're nearer the mark. Dingwall's manager, Colin, and his very hungry bouncers, were hard-pressed that night....
"I'm on Jimmy Lascelle's guest list, mate."
"I'm a friend of Hawkwind's, man."
"What?" ...were many of the lines used, but jibbing was hard, that night, and many were turned away.
And for the lucky? ...straight to the bar, glug, glug,... hit the dancefloor, goin' to a go go,... chomp merrily on huge 1/2lb 'burgers and excavate potatoes from their jackets, pinch waitresses' delicate bottoms and scream out orders for "6 large bourbons, 4 large tequila sunrises, 10 pints of Stella Artois an' a pile of chili-con-carne luv, please." Yes, those poor underpaid waitresses were hard-pressed that night, too.
By the time Camel had mounted the stage most people had cut out a line and were very stoned! (hear the one with the moustache say "Jeeze, I can't find my knees") The Camels played a very fine, sturdy set that night and the best is kept for posterity here. But back to the bar, and more booze to be downed!
The Global Village Trucking Company hit the stage, the mad, half-crazed Johnney Owen singin' up-front about us all being part of a "Silent Revolution", while the loonies gyrated the Frug all over the dance floor and the fat boy did "The Unsteady"! The Globes must be one of Britain's best up and coming, alternative culture, hippie bands, and so rightly deserve a portion on this record.
Time was runnin' short already. Poor old Henry Cow could only lay in a 10-minute set before the compulsory closure of Dingwalls at 2am (licensing laws you know... yawn!). But not to worry, I think you'll find that the Cow's donation was recorded at the Manor recording studio, and is included within.
Gong's set, too, wasn't recorded live that night, but I have it on good authority, I hope, well, I'm led to believe it was recorded at a free festival in Tunisia? (please draw your own conclusions!) Hi Tim!
Come 2am, sometime later, the big beefy bouncers want drinks drunk fast, so one dutifully obliges and downes one's drinks as fast as one can, and leaves, but this is one gig we won't forget in a hurry, 'cause someone done gone put it on a record.
Dave "The Boss" Goodman (taken from the insert sheet of Live at Dingwalls Dance Hall)
---
Notes and comments:
From Martin Georgie:

The Grand Union canal curves round through North London on its way
from the west of London to the old dockland area on the Thames.
There's a lock at Camden Town that has accreted Dingwalls, some art
galleries, etc and a street market.
---
[home] [index samplers] [index artists] [e-mail] Created: 17.09.2000 Last update: 17.09.2000
---
The big note: Like most of you I, too, have a regular life and have to go to work each day, so do not expect updates on a daily basis, nor a prompt reply to e-mails. Just give me a little bit of time. And then there's always the question of violation of copyrights. If you think that my pages contain material which I'm not allowed to include because of its protected status, please drop me an e-mail, and I will remove the doubtful parts. On the other hand I regard all material within my pages as protected by copyright laws, too, so please ask before you steal. I'm sure we can work something out.