The Guitar Album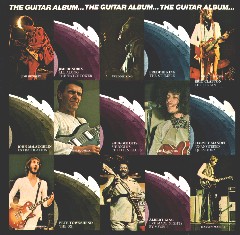 Title: The Guitar Album
Format: 2LP
Company: Polydor
Ordering Number: 2679 026
Matrix Numbers: 2488 162 S1 / S2 / 2488 163 = 2 S3 / 2488 163 S4
Country: Germany
Year: 19??

Side 1:

Eric Clapton / Duane Allman Tell the truth 6:40
Roy Buchanan After hours 6:12
Link Wray Tail dragger 4:28
Mick Taylor Marriage madness 3:33
Side 2:

Rory Gallagher Bullfrog Blues 6:44
Jimi Hendrix All along the watchtower 3:59
Harvey Mandel Unanswered questions 4:39
Eric Clapton Let it rain 5:03
Side 3:

Albert King I've made nights by myself 2:35
B. B. King Sweet sixteen 4:25
Shuggie Otis Shuggie's chittlin Blues 5:02
Pete Townshend The Ox 3:49
Side 4:

Jan Akkerman Hocus pocus 6:39
Leslie Harvey Love 74 6:33
John McLaughlin Extrapolation 3:50
---
[home] [index samplers] [index artists] [e-mail] Created: 18.11.2000 Last update: 18.11.2000
---
The big note: Like most of you I, too, have a regular life and have to go to work each day, so do not expect updates on a daily basis, nor a prompt reply to e-mails. Just give me a little bit of time. And then there's always the question of violation of copyrights. If you think that my pages contain material which I'm not allowed to include because of its protected status, please drop me an e-mail, and I will remove the doubtful parts. On the other hand I regard all material within my pages as protected by copyright laws, too, so please ask before you steal. I'm sure we can work something out.