Hard Cell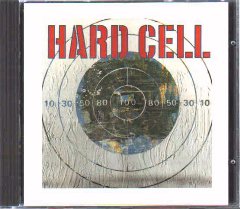 Title: Hard Cell
Format: 1CD
Company: Celluloid
Ordering Number: CEL. N.Y. 5503.11D
Matrix Number: 5503.110 1124 783 @ 1
Country: Switzerland
Year: 1985 (?)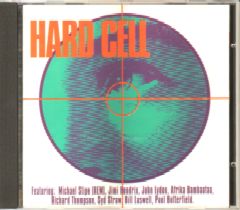 Title: Hard Cell
Format: 1CD
Company: Mau Mau Records
Ordering Number: MAUCD 622
Matrix Number: MAUCD 622 MPO 01 @
Country: France
Year: 1992 (?)

Tracklist:

Time Zone World destruction 5:08
Massacre Legs 2:50
Lightin' Rod / Jimi Hendrix Doriella du Fountaine 4:55
Deadline Makossa Rock 4:06
Golden Palominos Omaha 3:12
Bill Laswell / Material 1984 4:07
Golden Palominos Two sided first 7:47
Golden Palominos Boy (Go) 5:19
This is a compilation with recordings from Bill Laswell's Celluloid label. The CD was first issued by Celluloid, then this France reissue popped up. The France one has a liner note included, which reads something like this:

In every time there is a small, select number of great record labels, poised at the cutting edge of contemporary music, anticipating new directions so adroitly that they also serve to shape them. In the 50s it was Prestige and Riverside, in the 60s Blue Note and Impulse, in the 70s ECM and Black Saint. Celluloid aspired to be the leading contender to win that title for the 80s.Run by Bill Laswell, Roger Trilling and Jean Karakos, Celluloid wanted to be both a barometer and an instrument of change. Specifically, this change was in the climate of music in the 80s a climate which acknowledged the technological, historical and geographical differences between that decade and the one before. According to Roger Trilling, this change in climate could be ascribed to five different factors:
The total dissolution of Be-Bop or any other unified style in Jazz.
The unfollowable nature of free jazz, which meant that there was no longer a schooling ground for young musicians in any particular idiom.
The universal experience of rock and r&b among young musicians.
The international nature of musical sources in the 80s. Enterprising young musicians had available to them a much greater variety of musical experience both in terms of playing and listening. African, Cuban, Brazilian, and Asian musics became part of everyone's vocabulary.
The greater importance and accessibility of electronics in music making.
Bearing this in mind it makes sense to view Celluloid as separate and distinct from jazz, electronic, ethnic or archival catalogues. Their releases, in one way or another, relate to the mainstream of pop music.
[Label consultant: Marty Thau]
---
[home] [index samplers] [index artists] [e-mail] Created: 17.09.2000 Last update: 13.10.2001
---
The big note: Like most of you I, too, have a regular life and have to go to work each day, so do not expect updates on a daily basis, nor a prompt reply to e-mails. Just give me a little bit of time. And then there's always the question of violation of copyrights. If you think that my pages contain material which I'm not allowed to include because of its protected status, please drop me an e-mail, and I will remove the doubtful parts. On the other hand I regard all material within my pages as protected by copyright laws, too, so please ask before you steal. I'm sure we can work something out.