Howard Stern Private Parts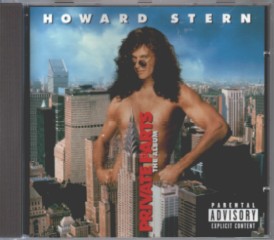 Title: Howard Stern Private Parts
Format: 1CD
Company: Warner Brothers
Ordering Number: 9362-46477-2
Matrix Number: 936246477-2 WME
Country: Germany
Year: 1997

Tracklist:

Pig Virus
Rob Zombie With Howard Stern The Great American Nightmare
Mama Look -- A Boo Boo
??? With Flea, Dave Navarro and Chad Smith I Make My Own Rules
The Match Game
Porno For Pyros Hard Charger
Moti
Marylin Manson The Suck For Your Solution
Lance Eluction
Ozzy Osbourne With Type O Negative Pictures Of Matchstick Men
The Contest
Green Day Tired Of Waiting For You
WRNW
Ramones Pinhead
Oh Howard
The Ben Stern Megamix
The Howard Stern Experience
Deep Purple Smoke On The Water
WCCC
Cheap Trick I Want You To Want Me
The Antichrist
Ted Nugent Cat Scratch Fever
WNBC
Van Halen Jamie's Cryin'
Crackhead Bob
AC/DC You Shook Me All Night Long (Live)
Howard You Stink
Ladies & Gentleman
Howard Stern And The Dust Brothers Tortured Man
This is a Soundtrack to the film.
---
[home] [index samplers] [index artists] [e-mail] Created: 15.09.2001 Last update: 15.09.2001
---
The big note: Like most of you I, too, have a regular life and have to go to work each day, so do not expect updates on a daily basis, nor a prompt reply to e-mails. Just give me a little bit of time. And then there's always the question of violation of copyrights. If you think that my pages contain material which I'm not allowed to include because of its protected status, please drop me an e-mail, and I will remove the doubtful parts. On the other hand I regard all material within my pages as protected by copyright laws, too, so please ask before you steal. I'm sure we can work something out.