The L.A. Soundtrack - KWST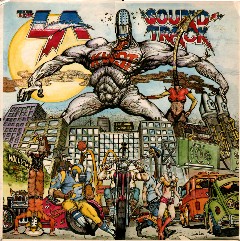 Title: The L.A. Soundtrack - KWST
Format: 1LP
Company: K West Records
Ordering Number: none
Matrix Numbers: 4eg7PV 43446-1 ST 04016 / 43446-2 ST 04016
Country: USA
Year: 1976

Side 1:

Dale Jones California Jam 2:42
The Drivers Van Nuys 2:45
Steve Slaysman L.A., you're a killer 2:44
Legs Diamond Rat race 6:28
Mark Kelton Down on the promenade 3:40
Peter Alsop L.A. freeway song 1:22
Side 2:

Corky Caroll and the Funk Dogs Skateboard Bill 2:55
Gary McCord The swapmeet song 3:28
Jed Gould Laca Perv 1:21
Kathy Atwater and Bob Goldstein San Fernando Valley Valerie 3:02
Michael Gardner Mr. Ed said (Crime don't pay in L.A.) 2:19
Ravenloft Down in old town 3:58
The Earnest Mock Band and The Old Ocean Park Singers Southern California's changing 2:23
There's nothing unusual about a Los Angeles radio station raising money for a just and worthy cause. However, the L.A. Soundtrack is different. This album represents not just the efforts of a local radio station, K-WEST, but the efforts of an entire community to support itself. The songs and artists featured on this album were assembled from the greater Los Angeles community, and the proceeds from the L.A. Soundtrack will be returned to the general community in the form of a financial donation to Los Angeles Public Radio. The L.A. Soundtrack is the music of a community getting in touch with itself.

lt was Christmas Day, 1975, when the word went out from the radio station that unheard artists, aspiring musician,. in fact, anybody who had a song to sing about a part of the greater Los Angeles community would not only have a chance to have their song heard, produced and distributed, but also, an opportunity to help raise funds of a charitable nature. Before the New Year had begun, the tapes came rolling in. During the months of January and February we received tapes... and tapes... and tapes... in fact, a little over 400 tapes were received.

While the Beatle-oriented, Frank Zappa-influenced, reggeized Bruce Springsteen types busied themselves with tunes, melodies, words and rhymes, K-WEST announced that the artwork for the album would also have the same source as the music: the cornmunity. Pentels, crayons, computers, and number two pencils came alive at the challenge. Within days of the announcement, the walls of the radio station became a gallery of contemporary (and sometimes contemptable) Hip-Op-Pop-Rock art. lf there is truly such a thing as color radio... we were it.

But now the artwork has been chosen, the musical cuts selected, and the album mastered. The writers, singers, instrumentalists and drawing board types have done their part. The radio station has done its part. Now, you, the L.A. community are doing your part. For the $1,06 you spend on every album, you buy a lot more than just some music (note the $1.06 price tag. Aren't you glad K-WEST isn't at 425 FM?).

The net proceeds from the sale of the L.A. Soundtrack have been earmarked for a donation to Public Radio (non-commercial) stations in the Southland. Each
non-commercial public outlet was contacted and asked to submit an outline of how they would like to use the funds in their operation.

Some stations would use the money to add to their news departments, same for direct grants to minority applicants, others would use the funds to get matching federal grants to increase their community involvement. A full financial statement will be available to any interested party after the completion of the L.A. Soundtrack project by writing K-WEST and requesting one.

The L.A. SOUNDTRACK is the music of a community getting in touch with itseif.
[from the liner notes of the album]
---
There're also short descriptions about the songs available on the back of the sleeve:
California Jam: Dale Jones is no stranger to music. He toured three years with the Young Americans, worked Vegas with the Kids Next Door, and toured with Westwood. Jones, now 26, wrote the song California Jam just hours after the 1974 rock event at the Ontario Motor Speedway ended. Dale wrote the words and music, and plays all the tracks, sings all the vocals. Leave it to a musician to write a California song about musicians.
Van Nuys: It was the tune that first came to John Phillips. Then, along with Lon Osgood, the words. "Just two or three days of watching the traffic was inspiration enough and the song Van Nuys was written." The Drivers, John Phillips, Lon Osgood, Joey Brassler, Steve Clark and Rick Nance wanted to sing a "goodtime song", and Van Nuys was it.
L.A., You're A Killer: Steve Slaysman is not a native Californian. He's from the weeping willow countryside of Virginia. Now a 22 year old student at Santa monica College, Steve found himself "frustrated with the lack of response from people". Hence the song title L.A., You're A Killer. Steve wrote the words and music as well as playing all the guitar tracks. Ray Olson on bass, and Richard Cammon, a friend from back home, on drums rounds out the creative input on L.A., You're A Killer.
Rat Race: Legs Diamond has been around Los Angeles for a while, but Rat Race represents their first recorded effort. Michael Diamond, leader of the group, wrote the words, and Mike Prince wrote the music. Originally from Chicago, Michael Diamond came to L.A. looking for a musical career, but all he got was a job at a liquor store. Those days are behind him now, and Rat Race by Legs Diamond tells the story. Aside from Michael Diamond and Mike Prince, Legs Diamond includes: Jeff Poole, Ric Sanford and Roger Romero.
Down On The Promenade: Mark Kelton is a 22 year old native of L.A., who spends his time split between teaching guitar and an occasional gig at the neighborhood record store. Kelton says it was the tune that came first. He was strolling down the Santa Monica Promenade with his dog, Blue. By the next day the words had been added to the melody, and Mark Kelton's Down On The Promenade has been added to the L.A. Soundtrack.
L.A. Freeway Song: Peter Alsop is a 29 year old musician from Connecticut, who settled in the Southland seeking a better view of life. L.A. Freeway Song might not have been Alsop's idea of better, but it was different, and the change seems to have made a difference. Peter wrote the words and the music, played all the tracks and sang all the vocals. The L.A. Freeway Song, for you who are on the road.
Skateboard Bill: Corky Carroll is a 28 year old native of the Southland, and between the surf and the music, everything else is making time. Drew Harrison wrote the music, and Corky wrote the words, but it was Corky Carroll's band, the Funk Dog Surf Band, featuring the Corkettes, that made Skateboard Bill the definitive surf song on the L.A. Soundtrack.
The Swapmeet Song: What would Southern California be without swapmeets? Probably the same, but not according to Gary McCord, a 22 year old recreation major at Cal State Northridge. With some help from Wanda Bryzycki with the lyrics, Gary wrote the music and did all the tracks and vocals (except for those lovely lady background vocals supplied by 23 year old Fay Grover).
Laca Perv: Jed Gould is a 20 year old journalism major at USC, who believes that deepdown inside all of us there is a pervert looking for an obscene thought to think. Jed wrote the words and music, sang all the vocals and played all the tracks. Oddly enough, Jed says it was the drum part that came to him first. Not too surprising that a song called Laca Perv starts with a bang.
San Fernando Valley Valerie: Bob Goldstein is from New York, Kathy Atwater is from the Valley, but they have pooled their efforts and their lives in the song San Fernando Valley Valarie. Bob is responsible for the words and music, Kathy gets the vocal credits. A nice touch to have two people who have found a new life together tell their story in song. This is not the first effort for composer Bob Goldstein. Several years back, Goldstein, and friend David Shire (brother-in-law of Francis Ford Coppola... also composer of the score for the motion picture The Hindenburg) got together and wrote a song for some friends to record. The friends were the Village Stompers and the song was Washington Square. From Washington Square to San Fernando Valley Valerie is more than just 3000 miles.
Mr. Ed Said (Crime Don't Pay In L.A.): Michael Gardner is a 29 year old parttime janitor and parttime reading instructor. Recently he took a part of his time to pay tribute to the Chief of the Los Angeles Police Department. This may not be the kind of immortalization that the Chief had in mind... but it definitely was what Michael had in mind. This tune is a fitting reminder that all is not paradise in Southern California. Gardner, who wrote the words and music, recorded all the tracks and sang all the vocals, was asked if he was influenced by any current or past musician. He replied candidly, "if so, I was collaborating in ignorance (which, contrary to popular belief, is not near Oxnard)."
Down In Old Town: Ravenloft is not a new band, it's just one of those bands you've never heard of (there is a difference... vague... but a difference just the same). Fred Sannipoli has been the leader of Ravenloft for several years, when he's not busy in the vault. Fred's not a banker. He runs a burial vault business (that explains the whereabouts of the out-takes). Down In Old Town is an inside song about the inside part of the Southland that some of the natives never see, and the tourists only hear about.
Southern California's Changing: The Earnest Mock Band and the Old Ocean Park Singers are under the direction and lead of Kelyn Roberts. Roberts wrote the words, and violinist Alan Schneider wrote the music. Kelyn Roberts is a psychologist on the UCLA staff, so when he talks about changes... he talks with great expertise.
---
During September 2001 I got some email from Kelyn Roberts, one of the band members of The Earnest Mock Band and The Old Ocean Park Singers:
Dear Rocco,
I'm simply amazed. I treasure the last copy of this album that I have, and I remember fondly the party/band that developed this song. This was the era of Dr. Dimento who wonderfully unformatted regional radio, and left a link for creative and chaotic voices which we could listen to on Sunday nights. Perhaps the torch for this energy continues on the Internet in works like yours!
Co-tunely, Kelyn Roberts, Producer, speaking for The Ernst Mach Band and The Old Ocean Park Singers.
And another one, where he explained the what's 'n' why's to a friend, with me in the CC of the message:
The rare record this West German collector, Rocco, has virtually immortalized on his web page was the product of an alternative/progressive, counter culture FM rock radio station contest in Los Angeles in 1975 or 1976 to which anyone could submit a song about Los Angeles and judges would include "the top" ten or so on a record which would be produced and "released" by the station. Some of our tenants at the time who were members of our collective play-group, were an aspiring rock 'n roll band keyboardist and I had a good laboratory type reel-to-reel tape recorder. As part of the Earnest Mock Band and the Old Ocean Park Singers, we submitted an entry and were included on this album LA Soundtrack. Our name came from a pun on the German physicist and physiologist Ernst Mach who measured the speed of sound, hence Mach 1, 2, 3 etc., but also discovered peculiar bands which formed in the visual field when you pressed on your eye with your finger. I think that this latter finding was probably more complicated and more serious, but hence Mach bands, an aggregation to which we aspired far beyond any talent we actually had. There can't have been many albums pressed. I'm surprised I didn't send you a copy. To my limited knowledge none of the other entries achieved any greater recognition than this album. Most of the tracks were mediocre to good, so we weren't competing for the worst album released even for that year. We also had a lawn release party to which we invited all the successful entrants, and one or two of them came, so I still have an autographed copy. Roses may color the past but many of us were pleased to have done as well as we did.
---
[home] [index samplers] [index artists] [e-mail] Created: 14.11.2000 Last update: 09.09.2001
---
The big note: Like most of you I, too, have a regular life and have to go to work each day, so do not expect updates on a daily basis, nor a prompt reply to e-mails. Just give me a little bit of time. And then there's always the question of violation of copyrights. If you think that my pages contain material which I'm not allowed to include because of its protected status, please drop me an e-mail, and I will remove the doubtful parts. On the other hand I regard all material within my pages as protected by copyright laws, too, so please ask before you steal. I'm sure we can work something out.