Das neue Knusper-Stück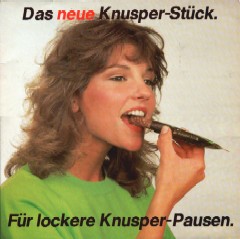 Title: Das neue Knusper-Stück
Format: 1LP (Picture Disc)
Company: CBS Schallplatten GmbH
Ordering Number: CBSLSP 15540
Matrix Numbers: ST LSP 15540-A / B
Country: Germany
Year: 1984

Side 1:

Men At Work Overkill (3:44)
Spliff Déjà Vu (4:06)
Toto Hold The Line (3:56)
Journey Wheel In The Sky (5:03)
Boston More Than A Feeling (4:44)
Argent Hold Your Head Up (6:15)
Side 2:

REO Speedwagon Keep On Loving You (3:19)
Santana Hold On (4:24)
Herbie Hancock Lite Me Up! (3:41)
Aerosmith Remember (Walking In The Sand) (4:05)
Mike Batt & Friends Lady Of The Dawn (4:00)
Kansas Carry On Wayward Son (5:13)
Notes & Comments:
No, folks, this ain't a recently discovered new Nena album! This release was made in order of the Mars company, to introduce and to market a new candy bar named "Banjo". The back of the sleeve shows some different sales booths for indoor vending. Inside the gatefold the new candy bar in all its glory, accompanied with such witty words like "with the superior taste", "The new packaging makes really appetite", or how about this: "The new publicity campaign mobilizes the consumer"!
The picture disc itself shows the candy bar on both sides, on a yellow background.
---
[home] [index samplers] [index artists] [e-mail] Created: 15.06.2001 Last update: 15.06.2001
---
The big note: Like most of you I, too, have a regular life and have to go to work each day, so do not expect updates on a daily basis, nor a prompt reply to e-mails. Just give me a little bit of time. And then there's always the question of violation of copyrights. If you think that my pages contain material which I'm not allowed to include because of its protected status, please drop me an e-mail, and I will remove the doubtful parts. On the other hand I regard all material within my pages as protected by copyright laws, too, so please ask before you steal. I'm sure we can work something out.