Oh Boy... The Compilation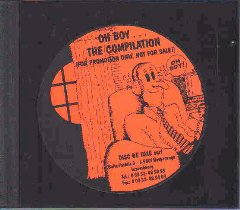 Title: Oh Boy... The Compilation (Promo)
Format: 1CD
Company: Oh Boy / Disc de Luxe sarl
Ordering Number: Oh Boy 1-9000
Matrix Number: CDT Berlin OHBOY 1-9000 01
Country: Luxembourg (but more probably Germany)
Year: 1990

Tracklist:

The Faces Twistin' the night away 4:33 (from "That's all you need")
Peter Frampton It's a plain shame 3:38 (from "Humble Pie + Peter Frampton Live in '73")
Lou Reed Ride Sally ride 3:53 (from "What ever happened to Dick and Steve?")
Edgar Broughton Band The rake 2:41 (from "It's not you")
Beck, Bogart & Appice Superstitious 5:05 (from "Let me love you")
Free Wishing well 4:13 (from "Free or dead")
Jethro Tull Hymn 43 4:13 (from "A new day yesterday")
Black Sabbath Children of the grave 4:09 (from "Metal mess")
Led Zeppelin Whole lotta love 2:10 (from "1st April (A Paris affair)")
Ten Years After Hard monkeys 4:03 (from "Live in the Bronx")
Little Feat Dixie chicken / Triple face Boogie 8:29 (from "When the shit hits the fan")
Mahavishnu Orchestra Meeting of the spirits 9:29 (from "Live")
Soft Machine Moon in June 8:37 (from "Live")
MAN Many are called - But few get up 8:50 (from "Brazilian cucumber meet Deke's new nose")
Live recordings from various sources and dates.
Notes and comments:
This is a limited edition promo sampler of the bootleg label Oh Boy, limited to 1000 copies. The CD is in a black jewel case and has a sticker on the front with the album title, as you can see from the picture above. The booklet, actually a single sheet which is folded to get 4 pages, has the same logo as on the sticker on the front, the track list in the middle pages, and a list of their catalogue on the back, from order number 1-9009 to 1-9035.
The company also released some bootlegs in vinyl format, the "Texas International Pop Festival 1969" releases are an example for this.
---
[home] [index samplers] [index artists] [e-mail] Created: 17.09.2000 Last update: 17.09.2000
---
The big note: Like most of you I, too, have a regular life and have to go to work each day, so do not expect updates on a daily basis, nor a prompt reply to e-mails. Just give me a little bit of time. And then there's always the question of violation of copyrights. If you think that my pages contain material which I'm not allowed to include because of its protected status, please drop me an e-mail, and I will remove the doubtful parts. On the other hand I regard all material within my pages as protected by copyright laws, too, so please ask before you steal. I'm sure we can work something out.