Pop 2000
Title: Pop 2000 - 50 Jahre Popmusik und Jugendkultur in Deutschland
Format: 8CD Box set
Company: Grönland / EMI Electrola
Ordering Number: 7243 523023 2 1
Matrix Number: EMI UDEN 5230242 / 5230252 / 5230262 / 5230272 / 5230282 / 5230292 / 5230302 / 5230312
Country: Germany
Year: 1999

CD1: (Elektronik)

Air Liquide Homicidal diary (1997) 4:46
Amon Düül II Wie der Wind am Ende einer Strasse (1972) 5:41
Kreidler Reflections (1996) 3:30
To Rococo Rot Prado (1999) 4:08
Can Spoon (1972) 3:03
Pole Weit (1998) 5:46
Neu! Hallogallo (1972) 9:47
Klaus Schulze Les jockeys camoufles (1972) 8:00
Mouse on Mars Kanu (1995) 5:58
Roedelius (Cluster) Heisse Lippen (1974) 2:21
La Düsseldorf Cha Cha 2000 (1978) 7:12
Tangerine Dream Phaedra (1974) 16:39
CD2: (Tanz 01)

Lyrical Poetry Vom Teufel besessen (1996) 5:17
Mo' Horizons Yes baby yes (1999) 3:32
Liasions Dangereuses Los Ninos del Parque (1981) 5:04
Rödelheim Hartreim Projekt Keine ist (1983 (1993?)) 4:03
Supermax Love machine part I (Single version) (1977) 4:32
Headcrash feat. Blümchen Kleiner Satellit (Crash down Mix) (1996) 4:18
Elektrotwist Zero-Trick (1998) 4:22
Caterina und Silvio The Peppermint Twist (Single Version) (1961) 2:13
Kinderzimmer Productions I got the right to sing the Blues (1996) 3:06
Whirlpool Productions From Disco to Disco (1996) 5:56
Sabrina Setlur Nur mir (Original album mix) (1997) 4:02
Deutsch Amerikanische Freundschaft (DAF) Der Mussolini (1981) 3:52
Ian Pooley What's your number (Radio edit) (1998) 7:21
Absolute Beginners Liebes Lied (1998) 4:14
Panacea Unglory (1998) 6:10
Penny McLean Lady Bump (1975) 3:43
The Les Humphries Singers Mama Loo (Album version) (1973) 3:45
CD3: (Tanz 02)

Snap! The power (1990) 5:42
Boney M. Ma Baker (1977) 4:35
Stieber Twins feat. Cora E. Einmal Marco, zweimal Stieber (1996) 3:40
Propaganda Dr. Mabuse (1984) 5:02
U96 Das Boot (1992) 5:13
Karakan (Cartel) Evdeki ses (1995) 2:48
B.Side The Norm Hip Hop in der DDR (1994) 6:44
Makai Beneath the mask (1998) 9:26
Unknown Cases Masimba Bele (Original Version) (1983) 5:51
Electric B. Electric B. (1990) 6:31
Isolee Beau mot plage (1998) 4:38
Westbam Born to bang (1996) 3:48
Fishmob Allstars Susanne zur Freiheit (Power Mix) (1998) 4:12
Karma Highpriestess (1995) 9:39
CD4: (Pop 01)

Münchener Freiheit So lang' man Träume noch leben kann (1987) 4:15
Xavier Naidoo Nicht von dieser Welt (1998) 4:20
Palais Schaumburg Wir bauen eine neue Stadt (1981) 4:02
Marusha Somewhere over the rainbow (1994) 5:32
Mousse T. vs. Hot 'n' Juicy Horny '98 (Horny '98 radio edit) (1998) 3:41
The Boots Searching days (Album Version) (1967) 2:28
Foyer des Arts Schimmeliges Brot (1986) 2:55
Bernd Begemann Hitler - menschlich gesehen (1993) 2:24
Lift Meine Schulden (1995) 2:00
Holger Biege Sagte mal ein Dichter (1978) 3:17
Nena Nur geträumt (1983) 3:41
Ideal Berlin (Album Version) (1980) 3:09
Enigma Sadness - Part 1 (1990) 4:08
The Rattles The witch (1970) 2:30
F.S.K. I wish I could "Sprechen Sie Deutsch" (1995) 4:23
Hubert Kah Sternenhimmel (1982) 3:06
Die Prinzen (Du musst ein) Schwein sein (1995) 3:19
Gautsch Ravemädchen (1998) 2:17
Freundeskreis A-N-N-A (featuring Donata Wharton Gitarre, Davide Petroca Kontrabass) (1997) 6:07
Gerhard Gundermann Scheissspiel (1988) 2:17
Die Erde Leben den Lebenden (1997) 4:54
CD5: (Pop 02)

Element of Crime Mehr als sie erlaubt (1993) 3:13
Der Plan Gummitwist (1984) 4:35
Alphaville Forever young (1984) 3:47
Andreas Dorau Fred vom Jupiter (1981) 2:39
Rio Reiser Alles Lüge (1986) 4:12
Fettes Brot Jein (1996) 5:55
Die Sterne Universal Tellerwäscher (1997) 4:05
Panta Rhei Über mich (1973) 4:17
The Lords Poor boy (1965) 2:44
Tic Tac Toe Ich find' dich Scheisse (Radio Version) (1995) 3:35
Die Fantastischen Vier Tag am Meer (1993) 4:21
Jeremy Days Brand new toy (1988) 4:00
AG. Geige Glückliche Reise (1986) 4:36
Trio Da Da Da Ich lieb dich nicht du liebst mich nicht (1981) 3:24
Silly Verlorene Kinder (1989) 4:18
Falco Rock me Amadeus (1985) 3:22
Malaria! Kaltes klares Wasser (1981) 3:50
Die Ärzte Punk ist... (Götz Alsmann Version) (1999) 3:23
The Notwist Your signs (1998) 6:46
CD6: (Rock 01)

Neu! Hero (1975) 6:21
Einstürzende Neubauten Kalte Sterne (1981) 4:12
Atari Teenage Riot Revolution action (1999) 3:44
Fehlfarben Ein Jahr (Es geht voran) (1980) 2:51
S.Y.P.H. Zurück zum Beton (1980) 1:57
Frumpy Life without pain (1970) 3:48
Herbert Grönemeyer Bleibt alles anders (1998) 4:42
Anger 77 Jugendbewegung (1998) 2:45
Pankow Langeweile (1988) 4:16
Sodom Ausgebombt (1996) 3:04
Nina Hagen Rangehn (1978) 3:26
Ton Steine Scherben Komm schlaf bei mir (1970) 4:02
Die Goldenen Zitronen Das bisschen Totschlag (1994) 3:59
Faust So far (1972) 6:14
Selig Ist es wichtig? (1995) 3:49
Spliff Deja Vu (1982) 4:06
Klaus-Renft-Combo Gänselieschen (1973) 4:00
Stoppok Wie tief kann man sehn (1993) 4:51
Das Auge Gottes Du hast Jesus Christus an das Kreuz genagelt (1994) 4:24
CD7: (Rock 02)

Die Skeptiker Deutschland halt's Maul (1991) 2:52
Guano Apes Open your eyes (Single Version) (1997) 3:07
Abwärts Alkohol (1987) 5:17
Jane Out in the rain (1973) 5:36
Hannes Wader Heute hier morgen dort (1972) 2:58
Rammstein Du hast (Single Version) (1997) 3:54
Doro Pesch Do you like it (Album Version) (1998) 3:05
Tocotronic Die Welt kann mich nicht mehr verstehen (1996) 1:36
Birth Control Gamma ray (Single Version) (1972) 9:44
Phillip Boa & The Voodooclub Kill your ideals '94 (1994) 4:40
Die Toten Hosen Pushed again (1998) 3:51
Bap Waschsalon (1981) 2:25
Hüsch / Degenhardt / Neuss / Süverkrüp Für wen wir singen (1996) 2:06
Floh de Cologne Fliessbandbaby, manchmal träum ich (1999) 4:35
Udo Lindenberg Horizont (1986) 4:05
Sandow Born in the G.D.R. (1989) 3:29
Phudys Ikarus (1974) 4:43
Wolf Biermann So soll es sein - So wird es sein (1975) 6:02
H-Blockx Risin' high (1994)
CD8: (Kitsch und Kult)

Peter-Thomas-Sound-Orchester Raumpatrouille (1966) 2:01
Theo Schuhmann Combo Luchs (instr. 60er) (1970) 2:36
Marianne Rosenberg Er gehört zu mir (1988) 2:59
Hildegard Knef Für mich soll's rote Rosen regnen (Album Version) (1968) 3:10
Michael Rother Flammende Herzen (1977) 3:52
Laya Raki Oh Johnny, hier nicht parken (1967) 2:14
Ricky Shayne Ich sprenge alle Ketten (1967) 2:11
Modern Talking Brother Louie (Original Version) (1986) 3:38
Klaus Nomi Cold song (1983) 4:03
Charles Wilp Mad. Ave. perfume ad. (1966) 2:30
Die Butlers Butler Boogie (1964) 2:13
Ted Herold Ich bin ein Mann (1959) 1:49
Die Yankees Halbstark (1965) 2:11
Conny Froboess Lippenstift am Jacket (1960) 2:23
Helge Schneider Sex machine (1995) 1:51
Manfred Krug Jeder Mann, der Dich sah (1972) 4:17
Peter Maffay So bist Du (1979) 5:07
Drafi Deutscher Marmor, Stein und Eisen bricht (Album Version) (1965) 2:37
Marion März Er ist wieder da (1965) 2:50
Daisy Door Du lebst in Deiner Welt (1972) 3:11
James Last Bolero 75 (1975) 3:16
Freddy Quinn Wir (1966) 3:26
Roy Black Ganz in weiss (1966) 3:00
Scorpions Wind of changes (1990) 5:11
Nico Das Lied der Deutschen (1974) 5:27
Notes and comments:
This true is a compilation about german music and artists which can be called "Kraut und Rüben". The box set was released to accompany a tv series of the same name, which dealed with our german music and youth culture. A very funny and interesting series, about twelve sendings long. It still gets airing dates thru our school tv, and the german music channel VIVA 2.
Another CD with german artists doing cover versions of german bands from the past 50 years was released along with the box set (see below), and an additional book was published: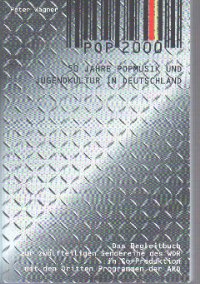 Title: Pop 2000 - 50 Jahre Popmusik und Jugendkultur in Deutschland
Author: Peter Wagner
Publisher: idealverlag
ISBN: 3-932912-21-7
Country: Germany
Year: 1999









---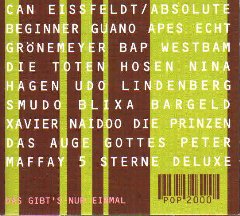 Title: Pop 2000 / Das gibt's nur einmal
Format: 1CD
Company: Grönland / EMI Electrola
Ordering Number: 7243 523075 2 4
Matrix Number: EMI UDEN 5230752
Country: Germany
Year: 1999

Tracklist:

5 Sterne Deluxe Yes Sir I can Boogie 4:48
Guano Apes Big in Japan 2:53
Herbert Grönemeyer Da Da Da 4:06
Jan Delay a.k.a. Eissfeld/Absolute Beginner Irgendwie, irgendwo, irgendwann 5:30
Die Toten Hosen Schiffe 2:39
Smudo Rudi 3:54
Westbam Computerstaat 3:13
Peter Maffay Alkohol 3:47
Can Der dritte Mann 5:16
Echt König von Deutschland 3:55
Die Prinzen Doris 4:21
Bap Fette Ratten 3:46
Nina Hagen Männer 4:46
Blixa Bargeld Soul desert 5:10
Xavier Naidoo Flugzeuge im Bauch 3:46
Udo Lindenberg Wohin gehen wir 3:51
Das Auge Gottes Sehnsucht 4:14
---
[home] [index samplers] [index artists] [e-mail] Created: 17.09.2000 Last update: 29.10.2000
---
The big note: Like most of you I, too, have a regular life and have to go to work each day, so do not expect updates on a daily basis, nor a prompt reply to e-mails. Just give me a little bit of time. And then there's always the question of violation of copyrights. If you think that my pages contain material which I'm not allowed to include because of its protected status, please drop me an e-mail, and I will remove the doubtful parts. On the other hand I regard all material within my pages as protected by copyright laws, too, so please ask before you steal. I'm sure we can work something out.