Rock Legends - Rare Tracks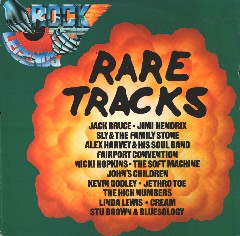 Title: Rock Legends - Rare Tracks
Format: 1LP
Company: PolyGram Records Pty. Limited
Ordering Number: 2475 711
Matrix Numbers: MX196841 2475 711-1 / MX196842 2475 711-2
Country: Australia
Year: 19??

Side 1:

The Soft Machine Love makes sweet music (Polydor single 1967)
Cream Anyone for tennis (Polydor UK only single 1968)
Kevin Godley To fly away (released on UK only sampler "Marmalade 100% Proof")
Fairport Convention If I had a ribbon bow (from their first single)
Linda Lewis You turned my bitter into sweet (early 1967 Polydor single)
Jethro Toe (Tull) Sunshine day (B-side of first MGM single 1968)
Nicki Hopkins & The Whistling Piano Mister Pleasant (Polydor single 1967)
The High Numbers (later The Who) Zoot Suit (B-side of Fontana single 1964)
Jack Bruce I'm gettin' tired (of drinkin' and gamblin' etcetera) (A-side of Polydor single 1965)
Side 2:

Jack Bruce Rootin' tootin' (B-side of Polydor single 1965)
Stu Brown And Bluesology Just a little bit (Polydor Single 1967, feat. Elton John)
Jethro Toe (Tull) Aeroplane (A-side of first MGM single 1968)
John's Children Desdemona (Track single 1967, with Andy Ellison and Marc Bolan)
Sly and The Family Stone Take my advice (previously unreleased)
Jimi Hendrix Dolly Dagger (Isle of Wight Festival 1970)
Alex Harvey and his Soul Band Ain't that just too bad (Polydor single 1965)
The Soft Machine Feelin' reelin' squeelin' (B-side of Polydor single 1967)
---
[home] [index samplers] [index artists] [e-mail] Created: 18.11.2000 Last update: 18.11.2000
---
The big note: Like most of you I, too, have a regular life and have to go to work each day, so do not expect updates on a daily basis, nor a prompt reply to e-mails. Just give me a little bit of time. And then there's always the question of violation of copyrights. If you think that my pages contain material which I'm not allowed to include because of its protected status, please drop me an e-mail, and I will remove the doubtful parts. On the other hand I regard all material within my pages as protected by copyright laws, too, so please ask before you steal. I'm sure we can work something out.