Rock In Concert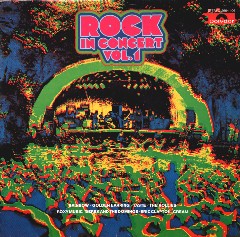 Title: Rock In Concert Vol. 1
Format: 2LP
Company: Polydor
Ordering Number: 2664 406
Matrix Numbers: 2488 720 S1 / S2 / 2488 721 S1 / S2
Country: Germany
Year: 19??

Side 1:

Rainbow Kill the King 4:59
Golden Earring She flies on strange wings 7:13
The Steve Gibbons Band Tulane 3:23
Side 2:

Taste Sugar mama 8:10
Randy Pie Highway driver 3:41
The Hollies Long cool women 3:17
Side 3:

Roxy Music Do the strand 3:50
Derek and The Dominoes Presence of the Lord 6:33
Eric Clapton After midnight 5:03
Side 4:

Cream Spoonful 16:44
---
[home] [index samplers] [index artists] [e-mail] Created: 18.11.2000 Last update: 18.11.2000
---
The big note: Like most of you I, too, have a regular life and have to go to work each day, so do not expect updates on a daily basis, nor a prompt reply to e-mails. Just give me a little bit of time. And then there's always the question of violation of copyrights. If you think that my pages contain material which I'm not allowed to include because of its protected status, please drop me an e-mail, and I will remove the doubtful parts. On the other hand I regard all material within my pages as protected by copyright laws, too, so please ask before you steal. I'm sure we can work something out.