The Swingin' Pig Records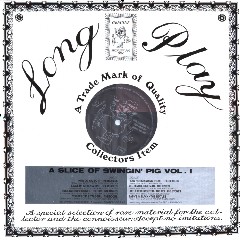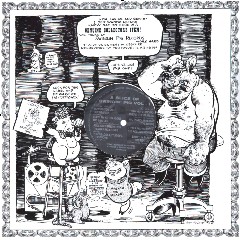 Title: A slice of Swingin' Pig Vol. 1
Format: 1LP
Company: Swingin' Pig Records
Ordering Number: TSP-PRO-001
Matrix Number: TSP-PRO-001 A G. Pauler
TSP-PRO-001 B G. Pauler
Country: Luxembourg (but more probably Germany)
Year: 1988

Side 1:

The Beatles How do you do it (from "Ultra Rare Trax Vol. 1")
The Beatles Leave my kitten alone (from "Ultra Rare Trax Vol. 2")
The Rolling Stones Roll over Beethoven (from "Get satisfaction if you want")
The Doors You're lost, little girl (from "Live in Stockholm 1968")
Side 2:

The Beatles I saw her standing there (from "Stars of '63")
The Byrds Mr. Tambourine Man (from "Live in Stockholm 1967")
The Rolling Stones Little red rooster (from "Conquer America")
The Beatles Baby's in black (from "Live in Paris 1965")
---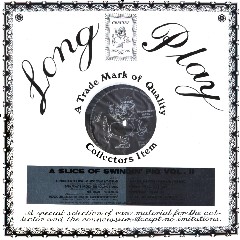 Title: A slice of Swingin' Pig Vol. 2
Format: 1LP
Company: Swingin' Pig Records
Ordering Number: TSP-PRO-002
Matrix Number: TSP-PRO-002 A G. Pauler / TSP-PRO-002 B G. Pauler
Country: Luxembourg (but more probably Germany)
Year: 1989

Side 1:

Bob Dylan & The Band Leopard-skin pill-box hat (from "Royal Albert Hall 1966")
The Rolling Stones Baby, what's wrong (from "Bright Lights - Big City")
The Beatles Yesterday (from "Five nights in a Judo arena")
The Jimi Hendrix Experience Voodoo Chile (Slight return) (from "On the killing floor")
Side 2:

Bob Dylan & The Band Like a rolling stone (from "Royal Albert Hall 1966")
The Rolling Stones Route 66 (from "Bright Lights - Big City")
The Beatles Nowhere man (from "Five nights in a Judo arena")
The Jimi Hendrix Experience Hey Joe (from "On the killing floor")
---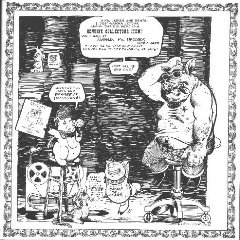 Title: A slice of Swingin' Pig Vol. 3
Format: 1CD
Company: Swingin' Pig Records
Ordering Number: TSP-CD-PRO 1
Matrix Number: INTERPRESS PRO 1 4 1 2 1 0 7 7
Country: Luxembourg (but more probably Germany)
Year: 1990

Tracklist:

Rod Stewart & The Faces Sweet little Rock'n'Roller (from "Real good time")
The Rolling Stones Roll over Beethoven (from "Get satisfaction if you want")
The Beatles Roll over Beethoven (from "Stars of '63")
The Who Summertime Blues (from "Live in Amsterdam")
Led Zeppelin Rock and Roll (from "Trampled underfoot")
Jimi Hendrix Little wing (from "Live in Paris")
The Doors Light my fire (from "Celebration")
Bob Dylan Mr. Tambourine man (from "Now ain't the time for your tears")
The Byrds Willin' (from "Live in Amsterdam")
Bruce Springsteen It's hard to be a saint in the city (from "Saint in the city")
Genesis I know what I like (from "Live in Montreal")
Pink Floyd Biding my time (from "Amsterdam '69")
The Allman Brothers Hoochie Coochie Man (from "Statesboro Blues")
Crosby, Stills, Nash & Young Ohio (from "Long time gone")
Neil Young & Crazy Horses Cinnamon girl (from "Winterlong")
David Bowie The gean genie (from "Rock'n'Roll suicide")
The Rolling Stones Gimme shelter (from "Philadelphia special")
The Who The real me (from "American Tour '73")
---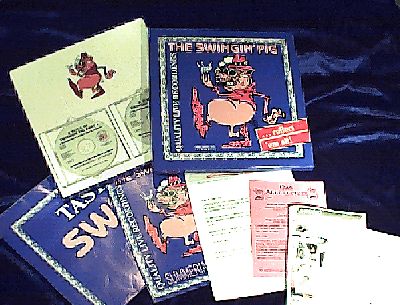 Title: Taste a slice of Swingin' Pig
Format: 2CD box set
Company: Swingin' Pig Records
Ordering Number: TSP-CD-PRO-1/2
Matrix Number: WIZARD TSP PRO CD 1 / WIZARD TSP PRO CD 2
Country: Luxembourg (but more probably Germany)
Year: 1992

CD1:

Sting Jeremiah Blues (from "Chicago '91")
Bob Dylan Positively 4th street (from "True confessions")
Tom Petty & The Heartbreakers American girl ("from Straight into darkness")
Roger McGuinn Someone to love (from "Someone to love")
The Rolling Stones Salt of the earth (from "Atlantic City '89")
Keith Richards I wanna be your man (from "A Stone alone")
Muddy Waters & The Rolling Stones Hoochie Coochie Man (from "Sweet home Chicago")
Van Morrison Baby please don't go (from "Live in Montreux")
Little Feat Fat man in the bathtub (from "Back on the road")
Stevie Ray Vaughan Look at little sister (from "Last farewell")
Gary Moore Still got the Blues (from "Back to the Blues")
Tina Turner Private dancer (from "Live in Tokyo")
Neil Young & Crazy Horses Down by the river (from "Prisoners of Rock'n'Roll")
Jimmy Page Stairway to heaven (from "Midnight moonlight")
CD2:

Bon Jovi You give love a bad name (from "Dead or alive")
Aerosmith Walk this way (from "Rock this way")
The Rolling Stones Bitch (from "Atlantic City '89")
Guns & Roses Live and let die (from "Live... and let die")
Iggy Pop Home (from "Raw power '91")
Neil Young Hey hey, my my (Into the black) (from "Amsterdam '89")
Prince Housequake (from "Nightclubbing")
Depeche Mode Master and servant (from "Performance")
Eurythmics Sweet dreams (are made of this) (from "In their own words")
The Sisters of Mercy Gimme shelter (from "Live in Amsterdam 1984")
The Cure Pictures of you (from "Full moon concert")
Pixies Monkey gone to heaven (from "Subbacultcha")
Pogues Rain street (from "Live on rain street")
The Smiths William, it was really nothing (from "Live in Madrid")
Aerosmith Janie's got a gun (from "Rock this way")
Bangles Manic monday (from "Live")
U2 I will follow (from "Another time, another place")
Other than the two CD's the box set includes a big blue poster, a catalogue "Summer / Autumn '92" with item TSP 059 to 114, and some material from the distributor / mail order company "Perfect Beat/Soundhouse", which is a "Thank You For Purchasing" letter, a sheet with their retail items, the normal catalogue (7/92), and two postcards for ordering purposes.
---
[home] [index samplers] [index artists] [e-mail] Created: 17.09.2000 Last update: 31.10.2000
---
The big note: Like most of you I, too, have a regular life and have to go to work each day, so do not expect updates on a daily basis, nor a prompt reply to e-mails. Just give me a little bit of time. And then there's always the question of violation of copyrights. If you think that my pages contain material which I'm not allowed to include because of its protected status, please drop me an e-mail, and I will remove the doubtful parts. On the other hand I regard all material within my pages as protected by copyright laws, too, so please ask before you steal. I'm sure we can work something out.