Total Guitar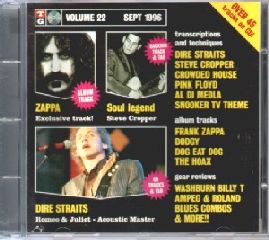 Title: Total Guitar Vol. 22
Format: 1CD
Company: Total Guitar
Ordering Number: TG 22 09 96
Matrix Numbers: S TG 220996 01
Country: England
Year: September 1996


Tracklist:
1. Dodgy - Prey For Drinking
2. Frank Zappa - San Ber'dino
3. Dog Eat Dog - Games
4. The Hoax - Swallow My Pride

Demos

5. St Street - Always
6. Votiva Lux - Domani

Reviews

7. Welcome To The TG CD
8. Washburn Billy T BT10
- Savage's Best - demo
9. Ampeg Diamond Blue / Reverberocket R-12R
- Smalltown Mentality - demo
10. - 13. Four DOD effects pedals
- DOD FX22 Vibro Thang
- DOD FX51 Juice Box
- DOD FX64 Ice Box
- DOD FX84 Milk Box
14. Guild D4 NT HR
- Song Without Words - demo
15. Roland Blues Cube / BC 60 combo
- On The Move Again - demo

Features

16. Riff of the month
- Weather With You - Crowded House
17. - 22. Pink Floyd - Shine On You Crazy Diamond
- Slow Intro Solo
- Riff & Second Intro Solo
- Third Guitar Solo
- Second Verse Licks
- Outro Picking
- Shine On... Full Backing Track

Technique

23. Tuning Guide
24. - 25. Acoustic Master - Dire Straits - Romeo & Juliet
- Intro played slow then fast
- Chorus section at speed
26. - 29. Jazz Special - Al Di Meola
- Mediterranean Sundance - Intro & Backing
- If We Meet Again, Part Two
- Morocco - Excerpt
- Midnight Tango Guitar Solo
30. - 33. Novice - R&B Tracks
- G7, C7 & D7 arpeggios
- Wobblin' all around - main riff
- Wobblin' all around - demo
- Wobblin' all around - backing track in G
34. - 37. Rhythm - Steve Cropper Booker T & The MG's
- Can't Be Still - first riff & main 12-bar sequence
- Green Onions - rhythm intro & bending outro part
- Can't Be Still - backing
- Green Onions - backing
38. Rock - BBC World snooker theme
- Drag Racer
39. - 41. Blues - Chord-shaped solos
- A7 blues lick in three positions
- Two more positions of A7 lick
- 12-bar backing in A
42. - 44. Bass - Funky mutes
- Muted examples
- Demo piece
- Backing track in E
45. - 47. Acoustic - Gordon Giltrap: Finger stretching workout
- Stretching exercises
- Fear Of The Dark - slow & fast
- Moto Perpetuo - slow & fast


Notes & comments:
IIRC the Zappa track is credited to Ryko, but from sound quality it sounds more like a rip from vinyl, which means the sound quality of this track is not as good as the normal CD release.
---
[home] [index samplers] [index artists] [e-mail] Created: 28.11.2000 Last update: 12.06.2001
---
The big note: Like most of you I, too, have a regular life and have to go to work each day, so do not expect updates on a daily basis, nor a prompt reply to e-mails. Just give me a little bit of time. And then there's always the question of violation of copyrights. If you think that my pages contain material which I'm not allowed to include because of its protected status, please drop me an e-mail, and I will remove the doubtful parts. On the other hand I regard all material within my pages as protected by copyright laws, too, so please ask before you steal. I'm sure we can work something out.