Willi Jung KG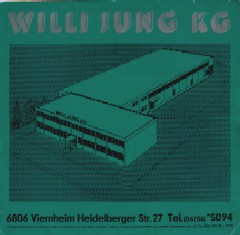 Title: Willi Jung KG / Classic In The Air
Format: 1LP
Company: BASF
Ordering Number: CRB 042
Matrix Numbers: A-0020 A-2 C3A / A-0020 B-2 C3A
Country: Germany
Year: unknown

Side 1:

Ludwig van Beethoven Adagio Cantabile (Pathetique, op.13) (4:00)
Johann Sebastian Bach Präludium Nr.1 (Wohltemperiertes Klavier, Bd.1) (3:00)
Frédéric Chopin Etude E-Dur op.10 Nr.3 (3:32)
Johann Sebastian Bach Air aus der D-Dur Suite Nr.3 (2:44)
Robert Schumann Träumerei op.15 Nr.7 (4:34)
Side 2:

Ludwig van Beethoven Presto Satz Nr.4 (Freude Schöner Götterfunken) (3:20)
Tomasso Giordani Caro Mio Ben (4:03)
Wolfgang Amadeus Mozart Wiegenlied (3:25)
Johann Sebastian Bach Präludium Nr.8 (Wohltemperiertes Klavier, Bd.1) (2:37)
Franz Schubert Ständchen (4:30)
Notes & Comments:
This elpee seems to be released by the Willi Jung electronic wholesale buisness due to the open of their new house in Viernheim, a town near Mannheim. The record itself seems to be a regular release from the BASF label, only repackaged in a customizes sleeve, which shows the new building on the front, and a roadmap on the back. The inner sleeve is a nice BASF company one, all red with this white spiral on.
The orchestra playing this "famous themes of old masters" is the "Orchester Arno Flor", who's also credited for conducting.
---
[home] [index samplers] [index artists] [e-mail] Created: 15.06.2001 Last update: 15.06.2001
---
The big note: Like most of you I, too, have a regular life and have to go to work each day, so do not expect updates on a daily basis, nor a prompt reply to e-mails. Just give me a little bit of time. And then there's always the question of violation of copyrights. If you think that my pages contain material which I'm not allowed to include because of its protected status, please drop me an e-mail, and I will remove the doubtful parts. On the other hand I regard all material within my pages as protected by copyright laws, too, so please ask before you steal. I'm sure we can work something out.