Woodstock 1+2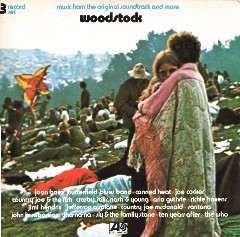 Title: Woodstock
Format: 3LP
Company: Atlantic Records / WEA
Ordering Number: ATL 60 001
Matrix Number: ST-CTN-701881-WEA.60001.A / WEA-60001-B-C² / WEA-60001-C-E² /
WEA-60001 ST-CTN-701886-I< / WEA-60001-E-D² / WEA-60001-F B²
Country: Germany
Year: 1970

Side 1:

John B. Sebastian I had a dream 2:35
Canned Heat Going up the country 3:20
Richie Havens Freedom 4:36
Country Joe & The Fish Rock & Soul music 2:08
Arlo Guthrie Coming into Los Angeles 2:07
Sha-Na-Na At the Hop 2:00
Side 2:

Country Joe McDonald The "Fish" cheer I-Feel-Like-I'm-Fixin'-To-Die Rag 3:15
Joan Baez Drug store truck drivin' man 2:07
Joan Baez Joe Hill 2:40
Crosby, Stills & Nash Suite: Judy Blue Eyes 8:11
Crosby, Stills, Nash & Young Sea of madness 3:24
Side 3:

Crosby, Stills, Nash & Young Wooden ships 5:27
The Who We're not gonna take it 4:25
Joe Cocker With a little help from my friends 7:40
Side 4:

Santana Soul sacrifice 8:06
Ten Years After I'm going home 9:20
Side 5:

Jefferson Airplane Volunteers 2:44
Sly & The Family Stone Medley: Dance to the music 2:10 / Music lover 6:59 / I want to take you higher 4:07
John B. Sebastian Rainbows all over your Blues 2:10
Side 6:

Butterfield Blues Band Love march 7:45
Jimi Hendrix Star spangled banner / Purple Haze & instrumental solo 12:45
---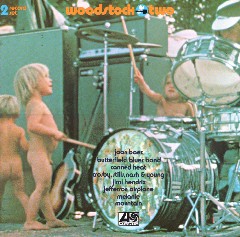 Title: Woodstock Two
Format: 2LP
Company: Atlantic Records / WEA
Ordering Number: ATL 60 002
Matrix Number: R/S Alsdorf 60002 A3 / R/S Alsdorf 60002 B2X / WEA - 60002-C²x /
R/S Alsdorf 60002 D plus handwritten WEA SF-CTN-712150
Country: Germany
Year: 1971

Side 1:

Jimi Hendrix Jam back at the house 6:09
Jimi Hendrix Izabella 3:32
Jimi Hendrix Get my heart back together 8:02
Side 2:
Jefferson Airplane Saturday afternoon / Won't you try 4:52
Jefferson Airplane Eskimo blue day 6:00
The Butterfield Blues Band Everything's gonna be alright 8:36
Side 3:
Joan Baez Sweet Sir Galahad 3:27
Crosby, Stills, Nash & Young Guinnevere 5:04
Crosby, Stills, Nash & Young 4 + 20 2:10
Crosby, Stills, Nash & Young Marrakesh Express 2:09
Melanie My beautifull people 3:45
Melanie Birthday of the sun 3:21
Side 4:
Mountain Blood of the sun 3:05
Mountain Theme for an imaginary Western 4:44
Canned Heat Woodstock Boogie 12:55
Audience during sunday rainstorm Let the sunshine in 0:50
---
Title: Woodstock SAT1-Edition
Format: 2x2CD plus Video
Company: Atlantic Records / Warner Brothers
Ordering Number: 780 294-2 (for the complete box)
Matrix Number: 2 60001/1 SRC-01 / 2 60001-2 SRC-02 (Woodstock CD)
781981-2/1 RSA / 781981-2/2 RSA (Woodstock two CD)
Country: Germany
Year: 1989
Notes & comments:
For tracklist see above at the original vinyl release. This special box set was released for the 20th anniversary of the festival. The film soundtrack was remixed to Hifi-Stereo (It also says Dolby Surround on the sleeve) the first time. German tv station SAT1 aired the new version exclusively (maybe the first time ever Woodstock was on german tv), and so this collaboration found its result in this collectors item. My copy number is #19672, but do remember numbers in the range of around 23000, so maybe 25000 copies were made. The box set does also include a poster, probably a reprint of the original movie poster for the cinemas. There is no additional material included in the movie, it's just the original film (running time approx. 177min.). The so called "Director's Cut", a two video release with extended running time, came out a few years later. The two 2CD sets are exactly the ones you were able to get in stores, and are those in the thicker jewel case. Not the "digitally remastered" ones, in the slim case.

See also: Woodstock Diary
---
[home] [index samplers] [index artists] [e-mail] Created: 17.09.2000 Last update: 29.10.2000
---
The big note: Like most of you I, too, have a regular life and have to go to work each day, so do not expect updates on a daily basis, nor a prompt reply to e-mails. Just give me a little bit of time. And then there's always the question of violation of copyrights. If you think that my pages contain material which I'm not allowed to include because of its protected status, please drop me an e-mail, and I will remove the doubtful parts. On the other hand I regard all material within my pages as protected by copyright laws, too, so please ask before you steal. I'm sure we can work something out.