Worldstar Session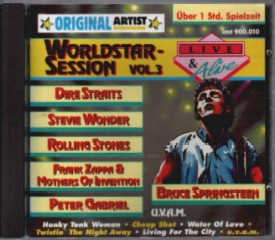 Title: Worldstar Session Vol.3
Format: 1CD
Company: Imtrat GmbH
Ordering Number: imt 900.010
Matrix Number: ITO SRC 160
Country: Germany
Year: unknown

Tracklist:

The Rolling Stones Honky Tonk Woman (3:28)
John Cougar Mellencamp Cheap Shot (5:39)
Dire Straits Water Of Love (5:31)
Peter Gabriel Modern Love (4:44)
Frank Zappa & The Mothers My Guitar (8:42)
Rod Stewart & The Faces Twistin' The Night Away (10:13)
Bruce Springsteen Point Black (8:23)
Fleetwood Mac Living For The City (10:44)
The Animals feat. Eric Burdon I'm Almost Grown (3:34)
Notes & Comments:
This release is a sampler from one of those semi-legal bootleg labels which were active here in Europe from roughly the end of the eighties to the mid-nineties. The selection here is made from the first releases this label poured out, and the sound quality is, in most cases, far away from perfect.
---
[home] [index samplers] [index artists] [e-mail] Created: 17.06.2001 Last update: 17.06.2001
---
The big note: Like most of you I, too, have a regular life and have to go to work each day, so do not expect updates on a daily basis, nor a prompt reply to e-mails. Just give me a little bit of time. And then there's always the question of violation of copyrights. If you think that my pages contain material which I'm not allowed to include because of its protected status, please drop me an e-mail, and I will remove the doubtful parts. On the other hand I regard all material within my pages as protected by copyright laws, too, so please ask before you steal. I'm sure we can work something out.